A sentence by sentence analysis of Rachel Stewart's NZ Herald November 2018 article
Months ago I heard that NZ campaigning journalist and environmentalist Rachel Stewart's article about the abusive term TERF had received the most negative commentary by far since the instigation of the Media Council in New Zealand. (The Media Council was formed from the Press Council until a few years ago to take account of newspaper and journal online content and to cover any site including blogs). I decided that I'd try to find whether the controversy was justified. Below is a sentence by sentence analysis which I wrote in the light of the recent social media tirade against Stewart by people saying they would not pay to access the Herald through its paywall because of her journalism.

My initial assessment was that the New Zealand Herald need have no concerns about this article. I didn't believe there was anything in the article that contravened the Media Council guidelines since it was an opinion piece.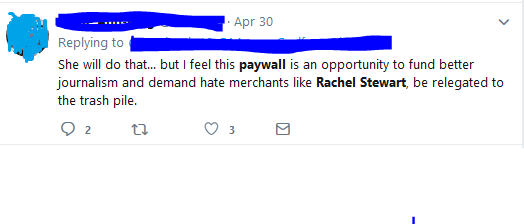 In the event the Media Council found against all aspects of the complaints bar one. The comments about the funding of (and these are my words) a gender industrial empire with trans ideology as a Trojan Horse bringing behind it a permanent and growing market in lifelong pharmaceuticals was described as "not being based in fact".  When I looked I found reports linking the people Stewart named and their organisations to extensive funding for trans activist organisations. Other people and organisations proposed increasingly radical forms of transhumanism (people 'enhanced' by technology) where transactivism is the wedge issue.
There is also evidence to support the claim that some groups with interests in medicine and pharmaceuticals recognise the opportunity provided by an endless supply of people needing expensive lifelong surgery and medication and there are regular financial reports on the investment opportunities offered by transgender surgery. In retrospect it's probably not that surprising that the Herald baulked at trying to link extremely rich and powerful billionaires supporting big pharma and transactivism.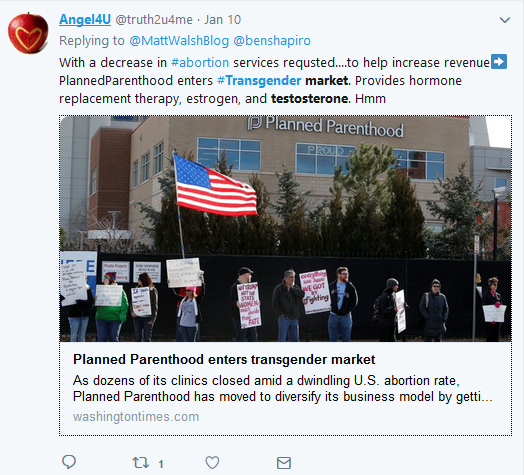 The Media Council's criteria for finding fault say that articles should not deliberately mislead. They say that an opinion piece or column content is widely understood to consist largely of the writer's own opinions based on a foundation of fact. Achieving balance (both sides opinions matched) is not essential in every article. For long running issues balance is achieved in the coverage over time in the entire publication.
In the interests of finding out what Stewart wrote that drew such strong opposition, I decided to do a sentence by sentence analysis. I've added context, commentary and supporting references for much of what Stewart wrote. Apparently Herald opinion articles are limited to 800 words- hardly enough to develop a complex argument – so the diverse issues Stewart explored were impressive given the constraints.
But first a word of explanation. Stewart uses "transactivist" (and I follow this convention). In her context and mine it is used to describe people who subscribe to an ideology that gender is more important than sex in determining who is a woman; that people can be 'born in the wrong body' and that therefore if someone says they are a transwoman, they are literally a woman, even if they do nothing and continue to present in public life as male. (Many transsexual (post-operative people) and other trans people do not support transactivism as described).
The kind of attack faced by Stewart and the NZ Herald on issues to do with the transactivist agenda is not unusual – the lobby is strong, noisy and effective. This article by Canadian journalist William Ray discusses how his critical articles were censored, suppressed, deleted or edited by the platform providers he used. It was deleted from the website medium.com for "breaching its terms of use" within 24 hours of publication. It appears this was because it gave the former names of transgender activists who had tried to get women critical of transactivism sacked as well as naming criminals who had used the ruse of being transgender to access women and to carry out sexual crimes. In contrast he has NEVER been silenced by any of the powerful actors in government and the military that he had written about. I think it's possible to speculate that the NZ Herald has probably faced similar pressure from the transactivist lobby in NZ.
If you are game here is the entire article is in bold and my comments are in plain text.
TERF: a derogatory term to shut down debate
Just a few short months ago, I had no idea what the term TERF meant. I knew it was chucked around as a pejorative with monotonous regularity, so it piqued my interest.
Background to put in context the article that follows
What had these so-called TERFs done to warrant such naked hatred? Here's what I've learned.
A question to frame article that follows.
TERF stands for 'trans-exclusionary radical feminist' and is used as a way of denigrating any woman,
An entire web-site is dedicated to how the word TERF is a slur with examples of threatsmade to women using the term.
who questions the current craze of people – overwhelmingly men – who say they were born into the wrong body.
Trans-advocacy has the features of a 'craze' with a 25-fold increase in young people seeking to transition in the UK in less than a decade and a newly observed condition of 'rapid onset gender dysphoria'. In NZ 3% of teenagers report that they are 'unsure of their gender identity" and 1% say they are transgender despite there being no scientific evidence that anyone is born in the wrong body or that 'gender' even exists separate from sex stereotypes.
However, some transactivists argue that there is a mysterious but as yet unknown brain chemistry link to gender and there are other explanations, many of which depend on circular logic. Some people have put these beliefs down to the peculiarities of English /US post-modernism – and its principal idea that it is our thoughts that bring the world into being rather than material reality.

In addition increasing numbers of people, whether they have transitioned or have overcome gender dysphoria pre-operatively, have elegant and compelling explanations of how they came to think this – including seeing videos on social media exhorting gender change as well as peer pressure – and how theylater realised their thinking was faulty. Notwithstanding this transactivists have sought to discredit and prevent research about desistance.
Basically, it's a derogatory and offensive label and is used to shut down debate on the fraught subject of transgender rights.
For example in NZ, multi-purpose campaigning group Action Station targeted women who put up feminist posters saying things like "It's OK to be a lesbian", "women are adult human females" accusing them of hate . They recently proudly reported this coup in their annual report.
The suppression of debate was dishonest and extensive. Action Station accused the un-named women of hate, extreme and violent views without ever explaining that their activism was related to proposed changes to the Births, Deaths, Marriage and Relationships Registration (BDMRR) Bill and the proposed changes to allow gender changes to birth certificates on the basis of self-declaration and with no medical or legal support. These changes were not part of the draft Bill and as such were not able to be debated during the Select Committee process but appeared afterwards, thus side-stepping public consultation on significant alterations to the Bill as drafted.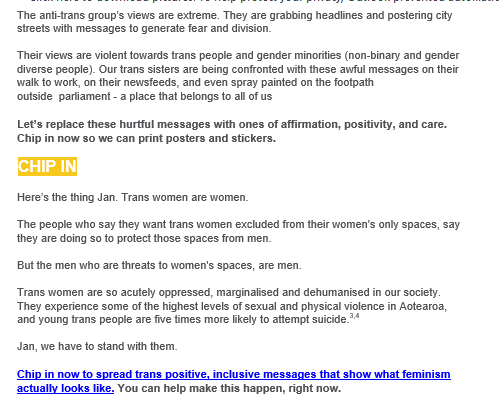 Newly formed group Speak Up For Women were seeking proper consultation before the Bill was returned to Parliament. The bill has indeed been deferred pending consultation and further legal work on these grounds. Proposals to implement similar laws in the UK and in Scotland have also been withdrawn pending more investigation following feminist campaigns including in the UK an investigation into housing trans women in women's prisons and the rapid increase in young women seeking to transition.
The suppression of debate by transactivists is extensive. Many people working in academia (a UK example), the caring professions and education, both in NZ and overseas, are already silenced by operating under rules that demand unquestioning support for children with gender dysphoria to change sex (affirmation) rather than a more nuanced approach which considers the wider context: for example looking at homophobia, prior trauma or abuse, parental attitudes or errors of self-perception.
Just a cursory glance on social media quickly provides enough evidence to prove it's anything but a neutral term – as users often claim.
Non-controversial statement of fact – see above.
It's common to see slogans like "Kill all TERFs", and who're often described as Nazis, fascists and bigots.
This happens mostly on social media where people, but especially women, who do not accept it is possible to change sex, are treated very badly. Moreover young lesbians are being put under intense pressure to identify as trans or non-binary rather than lesbian or gay. In particular, are being told they are "vagina fetishists" for asserting their same sex attraction and demands are made on social media and in peer groups that they include so called "trans lesbians", (formerly heterosexual men mostly retaining male bodies), in their dating pool.
Other criticism also comes from people who should simply be better informed. Last year psychologist and NZ Herald columnist Kyle MacDonald described women as hateful and discriminatory and attempted some kind of psychological explanation without ever having met the women or clarifying that their supposed 'hate' was related to the proposed law change. MacDonald also called the women TERFS and said they were aligning themselves with far-right groups without citing any evidence for this. (It's not true in any case. All the women I have met are from the left and green end of the political spectrum)
In another example human rights lawyer, and former head of Action Station, Marianne Elliott published a series of tweets saying that the women who opposed self-id were scared and misinformed – not Nazis themselves – but ill-informed dupes, susceptible to believing inaccurate information. She has since made a partial retraction.
More recently senior lawyer and 2018 Wellingtonian of the Year Stephanie Dyhrberg has called women who oppose self-id "whores" and said she wished they would "get a decent hobby" and "take up knitting. She later deleted the 'whores' tweet and a Law Society complaint against her was launched.
Under the Births, Deaths, Marriages, and Relationships Registration Bill, the proposed law will see adults (over 18) apply to the Register-General to have their nominated sex registered by specifying they want to be female, male, intersex (neither male nor female) or X.
Birth certificate self-id is new and will require no proof of change of status, no medical intervention, no counselling or legal advice or legal change. Anyone who wishes to change their birth certificate will be able to do this just as anyone can already change their driver's licences and passports by self-id.
Daring to question this, I'm now regularly referred to as a TERF. Boxed up, compartmentalised, and considered fair game by those who enjoy hunting in packs online.
Seeing the aggression directed at Stewart has been dispiriting. See this article on left wing blog the Standard as an example which describes Stewart's article as "a disingenuous and deliberately provocative piece about her supposed "distaste for trans people."
Some of the language used to describe Stewart has been horrendous including threats of violence and death. Another NZ woman (& SpeakUpForWomen spokesperson) can attest to the nature of the threats and has written about it in detail.
It's fatuous because I'm neither trans-exclusionary or a radical feminist so, technically, it's false.
Women who oppose self-id are regularly called "transphobic" – a catch all term without a definition – or a TERF, although the evidence of malice towards transgender people by women is rare. The NZ Speak Up for Women campaign is regularly described as "transphobic" for example despite supporting the rights of transgender people to live their lives free from violence and discrimination.
Except, the transactivists, most of whom are not trans, spit the word in your online face with such venom it causes one to reel at the mere sight of their dripping fangs.
The most vindictive people online are often not transpeople but their "allies" (often young men) who have swallowed the 'gender is real / transwomen are women / transmen are men ideology' wholesale. It's almost as if having a group of mostly women against whom their ire is endorsed allows their otherwise masked misogyny free rein.
So, to hear Labour MP Louisa Wall use the word in a public (media excluded) meeting was enough to make me reach for my snake gators. She said, "My whole thing is I don't want any f***ing TERFs at the Pride Parade."
Pretty insulting too. What responsible politician advocates excluding some people from an event to celebrate their lives, plays to rank prejudice and gets away with it?
I can tell you, that as a lesbian who has never marched in a parade of any kind – I loathe the sound of brass – I now feel like turning up.
Straightforward statement of intention.
I mean, as I'm the 'L' in LGBTQIA+, I should be safe to do so, right? But what if Louisa Wall sees me? Will security turf me out? Will I be dragged down a dark alleyway and forced to watch endless reruns of Priscilla, Queen of the Desert?
Yes. Rachel is a Lesbian and she is describing the "ever widening circle of inclusivity" – where ironically she and many other lesbians are no longer welcome. Other people have reported being unwelcome in other campaigns because of their gender critical beliefs. Forexample a lesbian group was banned from Wellington Pride because wanting to meet as a group of lesbians meant theirkaupapa was not "inclusive" enough.
This is not just happening in NZ. In the UK Stonewall, originally a gay and lesbian civil rights organisation, is being petitioned by lesbians and gay men because they have been prioritising transgender rights over gay people's rights. .
Look, I'm trying to make light of this stuff because no other approach has our Government listening.
That's a reasonable approach. Few MPs have been willing to meet representatives from Speak Up for Women an none has spoken up explicitly in favour of Speak Up For Women. Even Tracey Martin, who was shepherding the bill through the house has still not met them.
Under the proposed new law, a man can call himself a woman without ever medically transitioning (most never do) and insert himself in female-only spaces such as changing rooms, women's refuges, and prisons.
This is categorically an impact of the new law and reasons like this are why it has been deferred. The research that is available shows that transgender women are no more criminal than men in general. However gaining access to women's spaces and identities (including by deception) is a proven route for sexual crimes by male people. UK research has shown that shared facilities, put in place to cater for trans people's use, are proven to be more dangerous for women and children and recognising this the UN holds an annual event to advocate for women only toilets.
Few transwomen are actually transsexual (having had the surgery to physically resemble a woman) – estimates are that 85% are physically intact males and many do not even take feminising hormones. For example in the UK public figures like Stonewall advisor Alex Drummond and comedian Eddie Izzard describe themselves as transwomen and could, if their corresponding legislation is passed, fill in the form to have full legal recognition as female.
UK estimates show that the number of people identifying as transwomen if their corresponding legislation is passed could rise from fewer than 4000 to more than 200,000. There is no reason why a proportionate increase would not happen in NZ.
Women would have absolutely no legal recourse to challenge such a move.
It's far worse than Stewart explains. Even without the legislation in place people naming their concerns people are being criminalised. In Australia a journalist is facing trial for "dead-naming" and "misgendering." In the UK a man who 'liked' a limerick on the social media site Twitter was visited by police who told him he was being investigated for a hate crime and to "check out his thinking" a woman with small children was arrested and questioned for eight hours, and a student magazine editor was sacked. Others have had non-criminal speech recorded on police files and in a recent instance a woman has lost her job. On Twitter, Facebook, WordPress.com and Medium.com people who raise flags about transgender abusers have their accounts deleted.
In NZ Speak Up for Women had their posters removed and the same company refused to accept the suffrage commemoration posters of feminist Renee Gerlich following pressure from transactivists.
I don't know about you, but I wouldn't want to be locked up alone in a cell all night with a hairy, muscly, sex-starved inmate of either gender – but particularly one with his full kit and caboodle intact.
Presumably this sentence is at the core of the complaints, which seem to infer that it assumes that trans people are all sex offenders. Stewart could have written "while transwomen are no more sex attackers than men in general" and that may well be the case. Neither are all priests and childrens' home workers abusers in general but NZ currently has a Royal Commission into state and religious abuse of children for the very reason that the men incentivised to access vulnerable women and children are highly likely to adopt lifestyles that provide this access. And as a UK site tracking crime by transgender people shows, crime "is highly gendered, particularly sexual and violent offending, and some scientific studies indicate that a male pattern of criminality is retained among those males who transition to live as trans women". In addition the available international figures show that 20% to 40% of trans prisoners are sex offenders – a significantly greater percentage than male prisoners in general.
Also the very reason for protections for women have been made historically through legislation like the NZ Human Rights Act is that it is not possible to differentiate between men who mean no harm and those who have criminal intent. Men, in general, don't get to share prison cells with women and for good reason. Neither should transwomen, who pose the same level of risk.
However while NZ excludes transwomen with serious sex offences from women's prisons at the moment it appears that possession of a changed birth certificate could mean that the person was eligible to be housed in a women's prison irrespective of prior serious sexual offending.
UK philosopher Dr Kathleen Stock has written about how changing the category of woman will cause unintended harms. Harassment of and sexual attacks on women by transwomen is being reported in NZ women's prisons (there have been 6 cases in two years) and overseas there are documented cases of abuse by fully intact trans-identified males including where the person is argued to have been faking a trans identity to gain access to vulnerable women.
Neither would I want my six-year-old niece to see a grown male stranger naked in the changing rooms at her local swimming centre.
While women and girls may have been sharing toilets and changing rooms with transsexual women for decades, trans ideology holds that men are women if they say they are and self-id would support this. Making women's spaces mixed sex to accommodate transwomen effectively opens them to all men some of whom already feel that they should be able to use women's facilities, with impunity.
Meanwhile UK statistics have shown that mixed-sex changing rooms are many times more likely to be places where men commit sexual crimes.
Why shouldn't she be able to have a male-free space? And me too?
Yes. Even at the simple level of toilet and changing facilities and rest rooms Smelly air, pissy seats and floors, and poorer cleaning in mixed facilities are a complete pain for women whose bathroom needs are already inadequately provided for compared with men's.
How about Laurel Hubbard competing straight-faced as a female in weightlifting? And all those other athletes around the world winning hands down against biological women? Is it fair to females, who've often trained their whole lives, only to come second to a biologically stronger athlete – no matter how they identify?
This is factually correct. Increasing numbers of transwomen are winning women's sporting awards.
Trans rights are already over-riding women's rights and the 2020 Olympics will the first to specifically allow transwomen whose testosterone has been lowered to a level that is still on average 4 times that of women to take part. Many sports bodies have implemented similar rules but moreover in NZ women's sports are open to transwomen who meet the testosterone criteria because in the (so far legally untested) view of the Human Rights Commission (and therefore in the advice they give) trans people are covered by the sex-based protections in the Human Rights Act.
Gender critical feminists like me also question the use of hormone blockers by children as young as 10.
Factual information – and a horrifying situation. Kids in NZ are put on a pathway where they may become sterile, never experience puberty and the associated maturation changes it brings. They may have lifelong joint problems and other serious side effects which are well covered in the literature. NZ Sociologist based at Oxford Michael Biggs has written the definitive research on how this approach is experimental and its efficacy unproven. Moreover many kids change their minds if left alone. Despite supposedly being 'given time to think' research shows that 'puberty blockers' are nearly always a pathway to further medical intervention.
Parents, wanting to be best friends with their kids, are taking their son's fixation with dolls as evidence that he's really wanting to be female.
It's a valid view but I don't quite agree with it. Children may come to believe they are the wrong gender for all sorts of reasons (including nowadays by being told by organisations that are given access to classrooms that they can change gender).
In the UK transgender charities terrify parents telling them that only puberty suppression and a rapid transition will ensure their child does not commit suicide.
However some transactivist organisations are over-playing their hand considerably. The charity Mermaids trains police and government workers in the UK on gender awareness. The organisation was working with the controversial GP Dr Helen Webberley who has a criminal conviction for prescribing cross sex hormones to children as young as 12. This and similar actions caused the UK Lottery to review whether they are a suitable candidate for lottery grants.
In the UK the number of kids being referred to the NHS' gender-service unit has risen by 2,500 per cent over the past nine years and NZ research shows a 10 fold increase in diagnoses over a decade as well as a significant drop in age of presentation and a greater number of girls.
As a kid I played with Tonka toys. Fortunately, my parents saw me as a tomboy, and indulged me by letting me drive the farm truck and tractor at a ridiculously young age. Thankfully, in the 1960s, the seeds of "gender confusion" had yet to be planted. (Not to mention health and safety).
#metoo on the Tonka toys and the tomboy and the "gender confusion". This experience, often including a temporary gender confusion in childhood and adolescence, is commonly reported by women, including many who become lesbian as adults.
Which brings me to the money trail. When movements gain full throttle as rapidly as the trans train has, it must be asked who stands to gain from it? Sure enough, American transgender lobby groups are being funded by the likes of billionaires Warren Buffett and George Soros
These two sentences and the next one are the only part of the article that the Media Council found against.  Transactivist memes – "transwomen are women, my right to exist, sex is more than what's between my legs, the science on sex is not settled, no debate" – these don't come from nowhere and they don't cost nothing. They need workshops and focus groups neither of which come cheap.
Jennifer Bilek has identified that some very powerful trans identified men who are behind this movement as well as the very men named by Stewart.   Oxford-based NZ professor Michael Biggs has followed the same money trail from Soros' Open Society Foundation and found that the Foundation "fully supports the objectives of transgender activists."  He showed that $3.07M US (or 0.3%)  of the  Foundation's total grant-making in 2016-2017 was to support the transgender project. Biggs focusses on the "Transgender day of Remembrance" a worldwide project with a high media profile even in countries like NZ and even in years when no murders have occurred. (Consider in contrast the murders of women in NZ for whom there a complete lack of public acknowledgement let alone funded remembrance.) 
But it's much, much more than that.  LGB organisations used to struggle to run phone lines and were largely volunteer run and were rarely never supported by big money or by government. LGBTQI organisations in contrast seem to get millions in corporate sponsorship and are also funded by government. For example in the UK organisation Stonewall received funding of £8.7 m in 2018 increasing by more  than double income and ten fold in staffing over 4 years. (The organisation became a trans-inclusive organisation in 2015 and it's hard not to conclude that the money is associated with its new status). NZ's Rainbow Youth had an anticipated income of almost $NZ⅓ million in 2016 (when I checked the last year the Annual Report contained information on income) and has grown since allowing it to move to bigger premises and fund an "education team" and regional offices.
Why? Because investors want to help normalise the altering of basic human biology, and Big Pharma stands to make a fortune. It's already started.
Bilek has argued that the next revolution will be between technological and naturalist versions of the future of humanity. And some very rich people are researching transhumanism i.e. advocating that humans be "enhanced" by computer and other technology such as artificial wombs. New Zealand passport holder and billionaire Peter Thiel and others are financially supporting research to allow people to live beyond their natural life span. Pharmaceutical company chief executive and highest paid "woman" in the US is transwoman Martine Rothblatt who self-labels as a transhumanist and has made a simulacrum of her wife as a robot. An anonymous and unattributed technology project called xeno-feminism suggests that "if nature is unfair, change nature" and proposes that we do not need to know from where ideas are sourced. The project advocates the abolition of gender categories and research by a major publicly funded body is also discussing the abolition of gender in law based on trans and non-binary people's worldview with little reference to the rights women might want to claim.
Without ethical standards and laws in place a new bio-engineering industry and transhumanist projects will happen first in countries that do not have strong legal systems. That said, those like NZ that use 'light-handed' regulation and have no dedicated public body that supports debate on ethical medical issues are also at risk. (The NZ Bioethics Council was shut down in 2009). Private actors will set the rules as they do now by using developing country surgeons and facilities, through chancing or by creating new case law as has happened with surrogacy and adoption in NZ without public debate or endorsement.
But there are important issues around who is transgender and whether people are being 'treated' uneccessarily is a live issue. In the UK gender specialists argue they are being pressured by transactivist ideology and it appears the same is happening in NZ. As Susan Strongman's recent article showed information that transgender desistance is frequent in young people has been taken down from the website. This appears to be contrary to the best available evidence on desistance.
But the Ministry of Health's transgender policies are affirmative-only. This means people presenting at clinics are taken at their word, This precludes any discussion about their experience of homophobia or prior mental health issues or abuse that might have a bearing on their self-perception as transgender. This even includes children and young people with autism (who, according to the advice may make their feelings about their gender known 'non-verbally'.) The potential medical sequellae for such young peopleand the question of whether children can actually understand the treatment pathway they are on and the need for certainty surely raise some interesting issues about the nature of informed consent.
The Ministry of Health also advises that puberty blocking drugs are harmless – "safe and fully reversible" despite the joint problems and associated blocking of sexual maturation and the associated attenuation of sexual development that can be a consequence.
So, that's just some of the red flags I see. Maybe, in time, my concerns will be allayed. Maybe worldwide peace will break out and climate change will be reversed too.
Or perhaps not. There is quite a big list of other issues. Recently we have seen a man as Glamour magazine's woman of the year amongst many other trans identified male firsts across many sectors. There has been suppression of debate using manipulative ruses. In the UK male crimes are being reported as female crimes both in crime statistics and in the media. Transwomen and transgirls (including those who are physically males) are being included in Girl Guides groups without telling parents as both guides and leaders. A NZ organisation fund-raises to buy young women in NZ and overseas breast binders for would be transmen – garments that crush breast tissue and cause breathing and joint difficulties. A NZ MP is argued to be subverting the intent of the UN Convention on the Elimination of all Forms of Discrimination Against Women (CEDAW) and arguing (wrongly) that it mandates law change in favour of additional trans rights NZ.
In the meantime, I believe all human beings – including trans people – deserve human rights and respect.
Of course!
What I don't believe is why anyone questioning the obvious dangers lurking within the proposed new law, should equate to them not being afforded the same.
This is the nub of the problem. Check out this by the New Statesman's Helen Lewis as the UK lost its appetite for self-id.  And this by UK barrister Julian Norman who was a speaker at The recent Speak Up for Women public meeting.  When people start to see the impacts of self-id rather than reacting to a presumed 'transphobia' it gets a whole lot less popular.  Sadly, Stewart's's article was the first to cover this perspective and in the months since there have been few others across New Zealand, who despite the complete about turn in the political landscape, have addressed the issues.
Calling women TERFs is disrespectful, and Louisa Wall knows it.
It was an ill-judged intervention from an MP. She was under pressure and lashed out to get an easy, response from the crowd.
Please feel free to use this article or information from it with attribution.