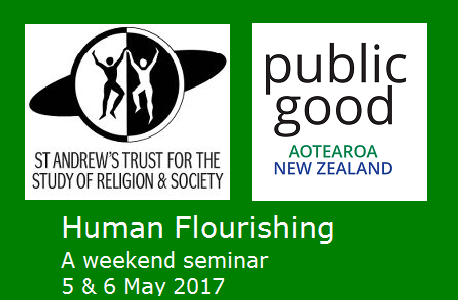 Registration are open for the 2017 St Andrews Trust for the Study of Religion and Society (SATRS) / Public Good Conference, at St Andrews on the Terrace, Wellington, New Zealand
Friday 5 May: 7.00–8.30pm (tea and coffee from 6.30pm)
Saturday 6 May: 9.30am– 3.30pm (Registration from 9.00)
HELP ALL HUMANS FLOURISH
Join a creative mob sharing their wisdom and thinking strategically about the future and how we can work towards NZ being a country where all people can flourish.  The weekend is a mix of speakers, workshops and experiences of our relationship with well-being.
Programme :
Friday evening May 5th

Rev. Dr Susan Jones
Susan is the Minister at St Andrews and will introduce the evening and reprise the lectures in the Human Flourishing series.
As well as being the Minister and member of the SATRS trust Susan has been an important voice in LGBTQI rights in New Zealand and in the Presbyterian Church. She is also a supporter of the NZ Living Wage campaign. St Andrews has recently become a living wage church.
Dr Heidi Thomson:  Flourishing with the Humanities: Challenges and Possibilities
Heidi is Associate Professor, School of English, Film, Theatre and Media Studies
at Victoria University where she is the English Programme Director. Her research areas are the British Romantic
Literature and Cultural Contexts; Wordsworth; Coleridge; Keats; Poetry and
Poetics. She is also a passionate advocate of the value of the Humanities in today's society.
Dr Carwyn Jones discusses his new book New Treaty, New Tradition
Carwyn is a Senior Lecturer in the School of Law and his research Areas are the Treaty of Waitangi, Treaty settlements, Waitangi Tribunal, Maori and constitutional issues, rights of indigenous people at international law, indigenous governance, indigenous legal traditions, Māori Studies.
Dr. Danielle Shanahan:  On 'Living with Nature'
Danielle's is Manager Conservation, Research, Learning and Experience at Wellington's Zealandia wildlife sanctuary. She discovered in the 2012 research of  more than 1500 Brisbane residents that the mere act of being in a park actually improves health and regular time spent in nature can help prevent depression and high blood pressure.
Saturday May 6th:
Experience a creative participatory day experiencing ways of thinking about flourishing through storytelling, workshops, speakers and time for deliberation.
Julian Raphael:

Julian is a highly experienced community musician, music educator, composer and performer who works alongside children and grown-ups with a philosophy and teaching style that is influenced and informed by music-making of the world's cultures. He is director of Community Music Junction, and a student and teacher of music from the Shona culture of Zimbabwe and is one of the very few New Zealand facilitators of African marimba and mbira. Julian leads the Wellington Community Choir and the Hutt Valley Community Choir and MaleVocale as well as a number of daytime 'Sing for your Life' groups.
Julian will speak and teach about the power  of song in human flourishing in a session with singing, music and words.

Rev Dr Jim Cunningham
Jim is a retired Presbyterian Minister, counsellor and story teller.  He was interim Minister at St Andrews to 2015.
Jim will co-facilitate the Saturday workshop and will tell stories to weave the event together and together with Graham has developed the plan for the seminar.
Graham Millar
Graham is a Trustee of the St Andrew's Trust for the Study of Religion and Society and is co-convenor of the Human Flourishing conference.
John Pennington:  Public Engagement Projects
John Pennington is a partner at Public Engagement Projects and in a previous role was part of the ream that ensured the short-lived Bio-ethics Council was the winner of the International Association for Public Participation (IAP2) awarded their Core Values Award in 2008. He has recently completed a project with Scoop Media to identify initiatives that might have broad acceptability across multiple communities.
Paul Bruce, Our Climate Declaration
Paul is a retired meteorologist, environmentalist and was until recently a Wellington Regional Councillor.  He will introduce and launch Our Climate Declaration in Wellington.
The declaration is a Declaration of our commitment to a different kind of future, based on respect, democracy and fairness and which takes care of people and of Nature.
Max Harris, The New Zealand Project (video link)
Max is a new young voice in New Zealand politics and his research at Oxford over several years has recently resulted in the publication of the New Zealand Project, an upbeat and idealistic prescription based on 30 in-depth interviews for a New Zealand that sees politics based in the values of love, care, community and creativity and their potentially richer Māori analogues of aroha, whanaungatanga, manaakitanga and auahatanga.
For more info and to register visit
http://bit.ly/humanflourishingNZ2017
 or text: 0221261839
To register for the conference
Friday: Koha entry.
Saturday: suggested registration fee is $30 waged / $20 unwaged / $10 under 25 or student. (Lunch included). If the suggested fee is too expensive we would rather see you at the seminar that not so please pay what you can.
Register  cash or cheque at the St Andrew's Office, or by direct debit to SATRS KiwiBank Account  389012 0627557-00 (with your name as a reference) or online bookings are at http://bit.ly/humanflourishingNZ2017