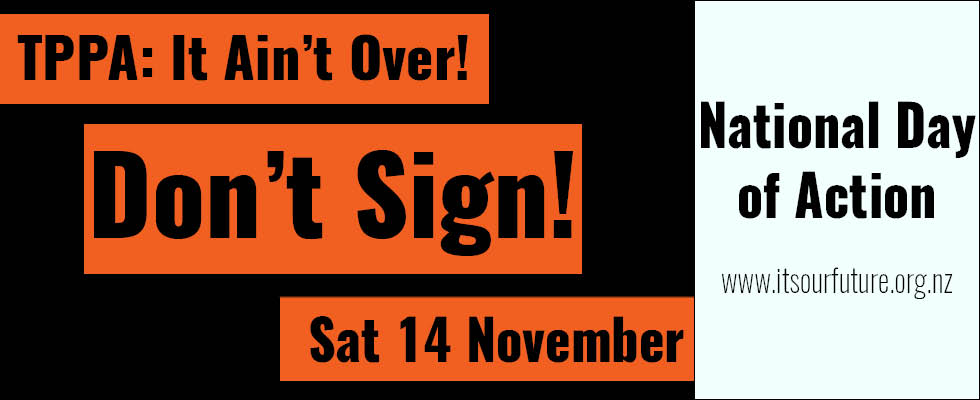 Anti TPPA March Demands – reproduced from the It's Our Future Website and read out at 14 rallies nationwide today.

A list of demands has been formulated by It's Our Future and concerned citizens around the country, and was read out at the 14 rallies around the country today. Copies in A4 and A5 can be downloaded from the bottom of this link.
The Government has no democratic mandate to sign away our democratic powers in the TPPA. Before it takes any steps towards signing the agreement, the Government shall:
1.  undertake independent human rights, health, environmental  and climate change impact assessments of the potential effects of the TPPA on the people and land of New Zealand, and make this information publicly available.
2. support Local Government New Zealand to undertake an independent assessment of the impacts on local government of the TPPA and consult fully with local government.
3. fully engage with its Treaty of Waitangi partners to hear and address their concerns about the TPPA and refer the text and any proposed legislation to the Waitangi Tribunal to conduct a full risk assessment of impacts on tangata whenua; iwi and hapū.
4. withdraw its consent to the secrecy pact among the twelve TPPA countries and release all background documentation relating to the negotiations.
5. initiate a full public and parliamentary debate on the TPPA, including Select Committee hearings with public consultation, and put the TPPA to a public referendum.
We will continue to mobilise New Zealand citizens in opposition to the TPPA until our demands have been met.
Real Choice is *Real Choice*
Our good friends from Show Us Ya Text have reformed as Real Choice with an awesome DIY Democracy plan around the TPPA. From Monday 23rd November until Monday 30 November they'll be holding their own referendum on whether the Government should put TPPA to a binding referendum. They're looking for volunteers, so head to their website, check out their hilarious video, and sign up to be a volunteer. Get involved and have your say!