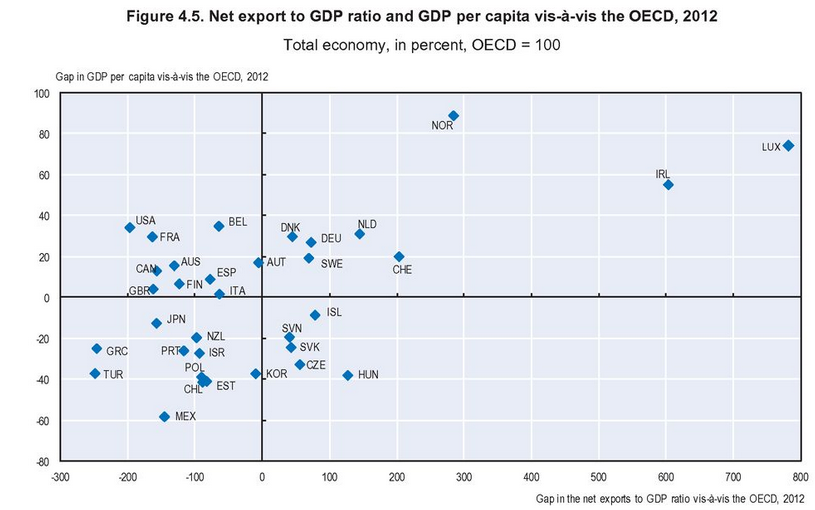 Liam Dann has written a long article on the TPPA in last week's New Zealand Herald. He's equivocal about the agreement saying
"Movement on dairy was disappointing, but movement was made. A first step, however small, is actually a very important one.
It does seem that with regards to specific gains New Zealand only did okay, not great, on this deal".
but he goes on to argue that the arguments against joining are unsupportable and that "on a per capita basis, few nations have been as successful at trading as New Zealand". It would be heartening to know that after 30 years as a "small open economy" we were doing so well that we are one of the world's outstanding trading nations.
However data which I have found shows that as of 2012, New Zealand's per capita exports (and here) are way behind countries of a similar size. (In addition OECD figures show that neither NZ's productivity per capita nor  GDP per capita are impressive compared with OECD countries of a similar size). Hong Kong and Singapore are almost 10 and 8 times respectively more effective exporters than NZ is. In Europe Switzerland is five times and Norway, the Netherlands and Luxembourg are more than four times as effective per head of population, with Denmark, Ireland and Sweden exporting more than twice as much per capita and even Australia is more than a 1/3 more competitive than NZ. New Zealand is closer to a group of countries that are either much bigger and whose larger internal markets are able to support a high GDP against the backdrop of fairly low exports (like France, Italy and the United Kingdom) or are former eastern bloc countries  (like Hungary and Estonia).
To have made what would appear to be a misleading comment as one of the few positives in support of signing a flawed deal makes a very weak case indeed for us having signed up to the TPPA.   But it also speaks to another common failing in NZ commentators. It's not at all unusual to make free and easy with stories about NZ exceptionalism. When these are presented as a reason for taking risks they become quite dangerous. It's the NZ number eight wire mentality updated for the new millennium. There seems to be a willingness to present information on an unlimited number of topics to show that brave little New Zealand punches above its weight, is top of class or does better than other similar or bigger countries.
Unless we have time to check the evidence, we become the victims of seriously misleading impressions about our country. In this case we are being persuaded that brave little New Zealand is a great and effective exporter. It might be true of particular commodities but it doesn't appear to be true overall, at least in recent memory. As a reason to recommend the TPPA it's positively disingenuous.