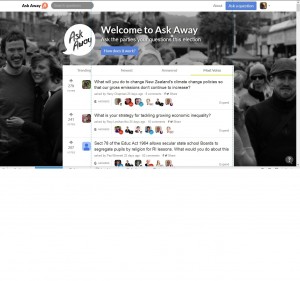 Campaigning organisation Action Station is using the social media election site Askaway to pose questions about the quality of our democracy.  Some of these questions were raised by participants at the recent conference Democracy, Ethics and the Public Good.
There are many great questions but the following relate specifically to the quality of our democracy which were posted last week and they are listed below.   They have been popular questions and the party responses are coming in.
Signing up takes only a few minutes and then you can post your own questions, make comments,vote up those related to an effective democracy and strong public services and any others you like the look of!
Have a look and check out the answers to the democracy questions
Does your party:
Commit to providing secure funding of community service, policy and research organisations that respects and allows for their right to provide commentary and advocacy on Government policy?
Commit to providing increased & secure funding for public broadcasting?
Commit to handing back the leadership of Christchurch to the Christchurch Council and elected local representatives?
Strengthen protection of freedom of information, including legislation, resources & training?