Democracy, ethics and the public good – The 2014 Geering Event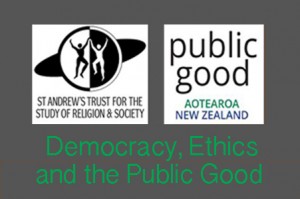 Kickstarting a NZ-wide conversation about the quality of our democracy
Our conference took place on the weekend of 1/2 August and attracted a good crowd.
Listed below is information about the presentations made and organisations represented at the conference. Panel presentations, workshops and time for networking helped us to refresh the language of democratic engagement and think about how to secure the quality of our democracy. A final report identifying priorities for further work will appear in due course.
Conference Presentations
We wanted to open the debate on the quality of our democracy and seed ideas about future approaches to building a deeper and more inclusive democracy in NZ.
Why we wanted a conference on democracy
In recent years we have seen a deterioration in the quality of some aspects of our democracy. On one hand we can celebrate MMP and the diverse set of representatives for our communities. The 2013 Transparency International report identified much that is first class about New Zealand's democratic arrangements and the government is committed to seeing New Zealand join the Open Government Partnership using the Transparency report's recommendations as one of the guiding criteria. On the other we have seen democratic protections over-ridden too many times in recent years. These protections can sometimes seem tedious, technical and procedural but without proper process our democracy and our citizenship are weakened. Whether it is seeing the MMP review which recommended an end to small party 'coat-tailing' ignored, the use of urgency in Parliament, schools closed without proper consultation, protest at sea criminalised or elected representatives replaced with political appointees the incursions are seemingly constant. Are New Zealanders alert to the pervasiveness of these challenges? In addition poverty and inequality leave hundreds of thousands of us disengaged and surviving rather than thriving. With insufficient income for food, power and decent housing, how can people participate fully in society?
Most important will be your voice and ideas. We will start to describe what is deficient and what is functioning well in our democracy.
Supporters
Democracy, Ethics and the Public Good has been kindly supported by
Noble Painting Wellington
Unity Books Wellington
Dr Ganesh Nana
Dr Richard Norman